Projects
GIULIO VISIBELLI GROUP featuring: Norma Winstone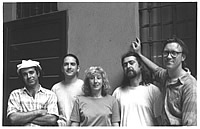 Giulio Visibelli - Sop & Ten Saxes, Flutes
Norma Winstone - Voice
Serge Lazarevitch - Guitar
Marco Micheli - Dublebass
Fulvio Maras - Percussion
The group has recorded the CD "WORDS" produced by DDD Records. The CD's music is representative of the group's components balanced mix: the sophisticated elegance of the famous English vocalist Norma Winstone, the precise and inspired creativity of Serge Lazarevitch, one of the most distinguished guitarists on the French jazz scene, the Mediterranean and harmonious warmth of Giulio Visibelli's compositions and instruments, the fluid and vigorous rhythm of Marco Micheli's drums and the extraordinary variety of colours of Fulvio Maras' percussion.
GIULIO VISIBELLI - "Words" DDD 74321-16357 (1993 C.D. & M.C.)
feat.: NORMA WINSTONE, SERGE LAZAREVITCH, M. MICHELI, F.MARAS.