Biography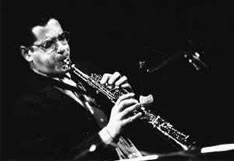 Sax and Flute player from Siena, Italy. Giulio achieves a Classical Diploma in Flute in 1981 at "P.Mascagni" Institute in Livorno with Luciano Brigidi. He studies sax with Claudio Fasoli and Gianluigi Trovesi attending, for three years, the "National Jazz Music Seminars" in Siena. Moved by his passion for jazz and the saxophone, in September 1981, he moves to Boston where, at the end of 1983, he gets his Diploma in Jazz Performance at the "Berklee College of Music" studying with John LaPorta, Joe Viola, Gary Burton, George Garzone, Andy McGhee and Bill Pierce. He also takes lessons from Joseph Allard and Jerry Bergonzi. From 2003 to 2008 he studies Conterpoint with Walter Zaramella and Composition with Giovanni Verrando.

He partecipates in the Orchestra directed by Bruno Tommaso in the radio program "Un Certo Discorso" produced by RAI 3 in 1982. He collaborates with other Italian and international top notch artists and groups, Stefano Battaglia's Quartet (1986), Fabio Jegher "Atmospheres" (1986/1987), Gianni Coscia Quintet (from 1987), Arrigo Cappelletti New Latin Ensemble (from 1988), Tiziana Simona and Mal Waldron (1988/1999), Neji Trio (from 1989), Gianni Basso Tullio De Piscopo Big Band (1990), Paul Wertico Quartet (1992), Grande Orchestra Nazionale dell'AMJ (1995), Paliaga-Visibelli-Tavolazzi,Stranieri Quartet (from 1995),Ensemble Garbarino (1995/1996), Sergio Caputo Quintet (from 1996), Giorgio Gaslini "Mister O" (1996), Civica Jazz Band (from 1998), Orchestra Jazz il Paese degli Specchi (1998), Claudio Angeleri's Orchestra Tascabile (from 1999), Sandro Cerino's Crescendo Big Band (from 1998), in Trio with Arrigo Cappelletti - Steve Swallow ('02), Montecarlo Nights Big Band (from 2003), E.Intra Trio (from 2005), F.Cerri Sextet (2005) and F.Ambrosetti Tentet (2005).
Back from the States Giulio takes part in numerous festivals both as leader and as sideman, among which the following: Festival Jazz in Voghera (1987), Italian Jazz Festival at the Teatro delle Erbe for Amnesty (1988), Italian Jazz Festival in Siena (1989-91-99), Capolinea Italian Jazz Festival in Milano (1989), Leverkusener Jazztage in Germany (1989), Ciak International Jazz Festival (1990-92), Bobadilla International Jazz Meeting in Bergamo (1991), S.Stefano Jazz Festival in Milano (1991-92), The Brass Group Italian Jazz Festival in Sicily (1991), Clusone Jazz (1991), Tulle Festival in France (1991), Around With Music in Milano(1992), Jazz Cocktail (1992), Concert in Budapest (1992), World Music Festival in Valenza (1992), Sounds of Time in Cesena XII Edition (1993), Bergamo Jazz (1994), Vignola Jazz Festival (1995), Atelier Musicale del Ventesimo Secolo a Milano (1995-1996-2005-2010), Jazzitalia in Verona (1996), Varese Festival (1996-1999-2002), Festival Jazz di ISEO (1998-1999-2001-2002-2003-2004), Orchestre Senza Confine (1998/06), Estival di LUGANO (2002-2004), Expo of Bien (2002), Umbria Jazz (2006)
With the Civica Jazz Band conducted by Enrico Intra he performs alongside Max Roach, Kenny Barron, David Liebman, Bobby Watson, Bob Brookmeyer, James Newton, Eddie Daniels, Markus Stockhausen, Evan Parker, Andrew Hill, Kenny Wheeler, George Gruntz, Franco Ambrosetti, Paolo Fresu, Enrico Rava, Franco Cerri, Claudio Fasoli, Gianluigi Trovesi, Franco D'Andrea and Enrico Pieranunzi.
Giulio is also part of the "Montecarlo Nights" Big Band conducted by Gabriele Comeglio, performing with Sarah Jane Morris, Patti Austin, Nnenna Freelon, Dee Dee Bridgewater and Jellow Jackets.
In 2015 he takes part, with an his own composition, to the project BODY and SOUND #3 of Director Alberto Nacci recording the video.
He is currently teaching at the "L.Campiani" of Mantova, at "Civici Corsi di Jazz di Milano" and "CDPM di Bergamo".

Giulio Visibelli plays reeds