Projects
N E J I T R I O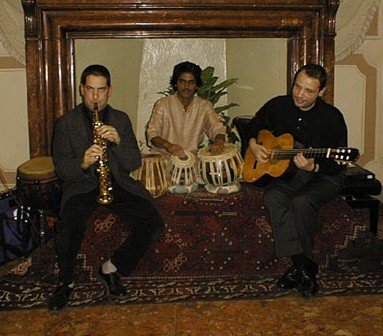 Vincenzo Mingiardi - acoustic guitar and loops
Giulio Visibelli - soprano saxophone, flutes
Arup Kanti Das - tabla, percussion, vocals
The Neji Trio was formed in 1989 by the guitarist Vincenzo Mingiardi, the saxophonist Giulio Visibelli, and the tabla player and multi-percussionist Federico Sanesi. Vincenzo Mingiardi and Giulio Visibelli had already given life to various projects in the field of contemporary jazz ( LP Dieci Segreti,Visibelli Group, ed. Aqua, 1987). The Neji project aims at exploring possible parallels among different rhythmic forms – mostly from the East – and sonic structures drawing both on jazz and peculiar experiences of western music (contemporary and minimal music in particular). Furthermore, the group also proposes original compositions, remakes of traditional pieces of different origin (i.e. India, Pakistan, Turkey, Mongolia, Japan…). Far from being intended only for strictly philologic purposes, these remakes should suggest the possibility – almost the need – for contemporary musicians and composers of referring to an increasingly extensive and exciting "world song book." The style of the group is well represented by the CD "Sat", produced by Amiata Records in 1997, featuring besides the trio a classical string quartet, the accordion of Gianni Coscia and the tuvan harmonic singing by Matteo Silva.
The group has collaborated with renowned musicians (sarod maestro Stephen James, double bass player Roberto Bonati, khyal singer Sangita Chatterji and the iranian zarb player Ali Tajbakhsh) performing in important jazz and world music festivals in Italy and abroad; in 1994 Neji represented Italy at the first Hatra International Festival in Iraq. Presently the line up, besides Giulio Visibelli on soprano saxophone/flutes and Vincenzo Mingiardi on acoustic guitar and live electronics ,features Arup Kanti Das – outstanding musician from Calcutta – on tabla, vocals and percussion.
NEJI - "Sat" AMIATA RECORDS ARNR 796 (1996 CD).