Projects
Duo Cappelletti-Visibelli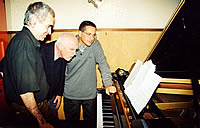 An unpredictable and unique performance, an unconventional yet lyrical merger between tango and freely improvised jazz. Presented by two jazz musicians, Arrigo Cappelletti and Giulio Visibelli, who started collaborating in the first Italian tango-jazz experiment contained in the CD "Pianure" also featuring Gianni Coscia- and who enjoy researching a musical world that has no frontiers and constraints .

"This music take advantage of a freedom that is never a risk, moving with a limpid proceed, sober and essential, that is in the nature of both the musician. Concerning the tango, it's never present in a explicit manner, mostly it's evoked throw a look to it's expressive world, which the lyric-melancholy component touch the sensibility of the two musician (specially Cappelletti): so we can say that we are in front of a thought on the tango emotional atmosphere, using the jazz language".
(Maurizio Franco)
ARRIGO CAPPELLETTI
Piano, composition. He was born on February 12th, 1949 in Brunate (Como).
After the degree of Philosophy he taught a little in Italian liceo, then he devoted himself to jazz, making up to this time ten records himself, at least three of them (Samadhi, Reflections, Pianure) had great importance in the definition of an Italian way to jazz, a way made of lyricism, introspection and connections with other musical universes.
Among several festivals which he took part in, we can remember here: Como jazz meeting (1976,1996), Rapallo festival (1984), Italian jazz festival at Capolinea, Milan (1986, 1987, 1989), VII International Jazz festival Cittŕ di Milano (1988), "I suoni del jazz" festival (Pavia, 1991), Jazz festival in Butera Palace (Palermo, 1991), Pori festival (Finland, 1991), "Sanremo:l'altra musica" festival(1993) , Italian jazz festival (Verona, 1994), Noto jazz festival(1996).
In Italy he played, among others, with Gianni Cazzola, Sergio Fanni, Paolo Dalla Porta, Roberto Ottaviano, Gianni Coscia. He can count collaborations with foreign musicians such as Barre Phillips, Lew Soloff, Mike Mossmann, Daniel Schnyder, Bill Elgart, Olivier Manoury, Steve Swallow.
Moreover he collaborated with the Italian singer Mia Martini and with Giorgio Gaslini's national jazz orchestra. In 1988, the American magazine "Cadence" put his record "Reflections" among the best ten records of the year.
In the last few months, he spent a lot of time in Portugal (Lisboa), where put into practice , with such musicians as Custódio Castelo, Jorge Fernando, Alexandra, a musical project between Fado e jazz based on portugues poetry of the twenty century.
Very active in the method of teaching jazz, he has published for ESI publishing house (Naples) a book about jazz improvisation half-way between method of teaching and autobiography: "Il profumo del jazz" (The scent of jazz).
A.CAPPELLETTI - G.VISIBELLI - "Free Tango" CDPM-LION (1998 CD)
A. CAPPELLETTI - G. VISIBELLI - "The kid" SPLASC(H) H916.2 (2004 CD)
CAPPELLETTI-VISIBELLI In TRIO with special guest: STEVE SWALLOW - Bass
A.CAPPELLETTI – S.SWALLOW – G.VISIBELLI – "Little Poems" SPLASC(H) (2002 CD)